BEHEMOTH unveils new video: the making of "The Satanist" part 1 of 4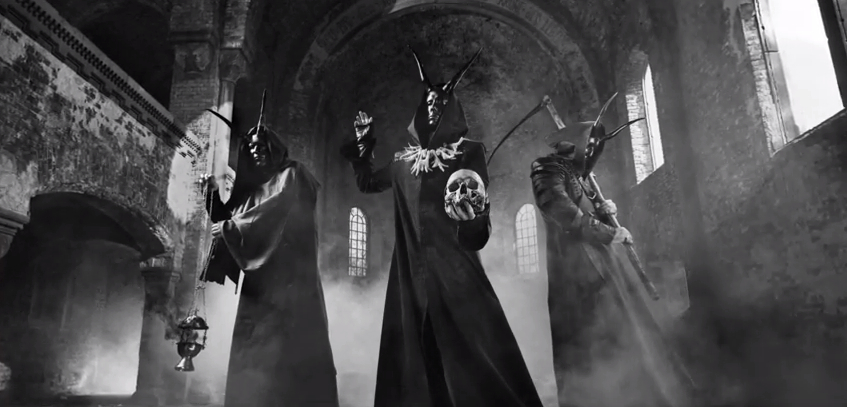 BEHEMOTH have posted a brand new behind the scenes video for 'The Satanist'. This video is the first in a series of four that chronicles a selection of the creative and technical processes behind the album that Albert Mudrian of Decibel Magazine heralds as "simply the best BEHEMOTH record ever."
Watch the making of video now at
'The Satanist' was produced by BEHEMOTH, Wojtek & Slawek Wieslawscy and Daniel Bergstrand in Hertz Studio. It was then mixed by Matt Hyde (SLAYER) and mastered by Ted Jensen (METALLICA, AC/DC) at Sterling Sound. The cover art is a painting by renowned Russian painter and occultist Denis Forkas. Nergal's own blood was used in the paint when creating the cover artwork and additional artwork was created by Metastazis and Zbigniew Bielak.
'The Satanist' will be released on February 3rd via Nuclear Blast. Order the CD and bonus DVD here.
BEHEMOTH will be embarking on a headlining tour of Europe beginning next month with CRADLE OF FLITH, IN SOLITUDE, INQUSITION, and SVARTTJERN, including one exclusive UK date at The Forum London on February 10th.
BEHEMOTH are:
NERGAL – Rhythm, Lead and Acoustic guitars,Throat, New Aeon Propaganda and War Strategy
INFERNO – Drums ov Annihilation and Artillery
ORION – Low end frequencies and fornication
SETH – Rhythm and Lead Guitars
Links:
www.behemoth.pl
www.facebook.com/behemoth
www.nuclearblast.de/behemoth
Vote on This!
Please Login To Like this Post
Or