William Christ – World Exclusive Interview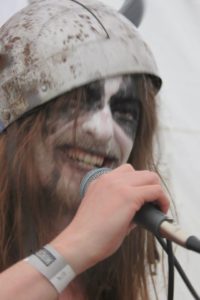 Apparently, the Norwegians (and their Swedish neighbours) have got it all wrong, and have been wrong all along, when it comes to black metal… it's not all about inverted crosses, burning churches and raping virgins.  At least, that's the view of the "sexiest man in BM" – the one and only William Christ.
According to the man who is a direct descendant of that bloke Jesus, black metal should actually be about the fine art of seducing women, caring for your pubic mane and designer tracksuits!  Intrigued?  Well, so were we, so we tracked the enigmatic Irishman down to a country pub on the outskirts of his home town of Enniskillen, where he was making a rare live appearance at Monsters Of Rot III, to find out more – and, after plying the great one with copious amounts of Guinness and Bushmills, we managed to persuade him to grant an even rarer interview and expound further upon his theorems…
(Public Health Warning:  The following recording contains copious swearing, references to anal sex and is not suitable to those with a nervous or sensitive disposition.  It is also extremely unsuitable for those who do not possess a sense of humour.)
William Christ Interview – 24 August 2013_001
If you want to find out more about William Christ, tough luck:  he believes the internet is evil incarnate, and therefore does not have a website – and he sure as hell does not have a Facebook profile!